EDO at the World Championships in Shanghai in 2016 with David Berti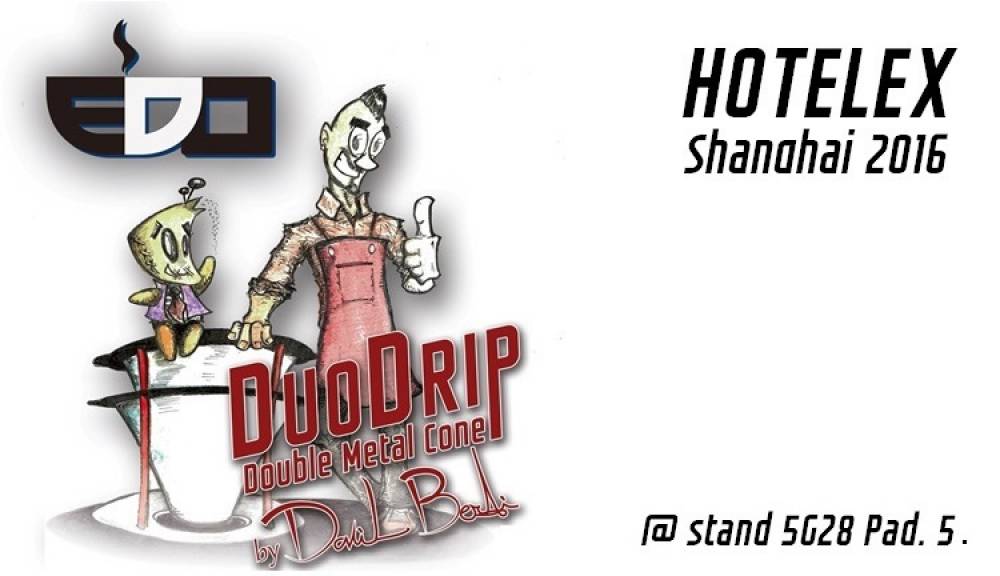 15 March 2016
---
From March 29 to April 1, 2016 the Shanghai New International Expo Centre (SNIEC) will host the 25th Shanghai International Hospitality Equipment & Supply Expo, HOTELEX.
On this occasion will be launched the first product of EDO branded products: the DuoDrip Metal Double Cone, designed by the super-barista David Berti, who will compete in Shanghai for the title of Champion of Coffee in Good Spirits 2016.
Davide, Ibrik World Champion in 2015, has already caused a sensation in Rimini on the occasion of the CIGS Italian final competing with DuoDrip.
The DuoDrip is an extraction system (for percolation in the upper cone, for irroration in the lower cone) that surprised for the ability to use two different blend, to enrich them with spices and fruits and, contextually, to eliminate the pre-infusion and avoid over-extraction (so to cancel the bitterness of the coffee).
We will be at Hotelex at booth 5G28 (Hall 5), hosted by from Nuova Ricambi.
At the stand you will be able to have all the information on the double cone and take advantage of the presence of Davide to the stand bar, see him use DuoDrip and sample one of the coffee-based cocktails that have made him famous.